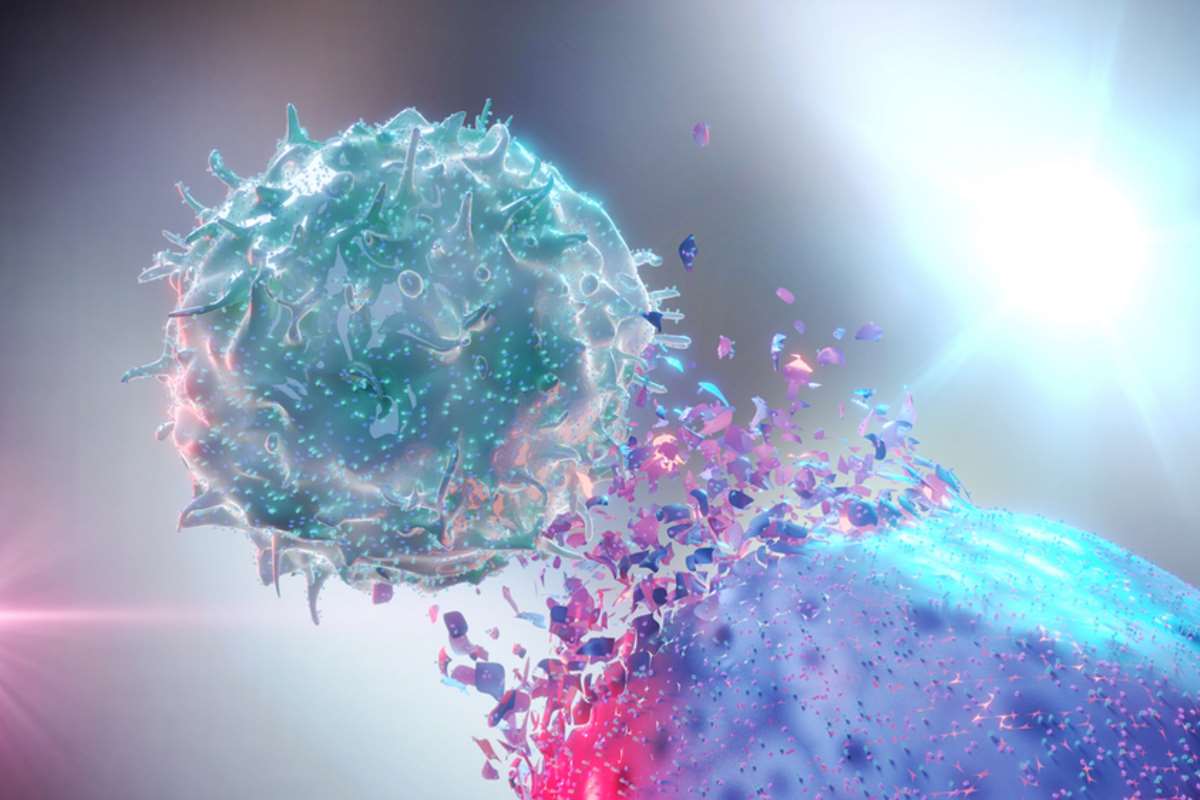 Shoreline Biosciences is developing genetically engineered induced pluripotent stem cell (iPSC)-derived allogeneic natural killer (NK) and macrophage cellular immunotherapies that are intelligently designed for greater potency and persistence, to create safe, effective, and affordable immunotherapies for the treatment of seriously ill patients.
Shoreline's proprietary cell therapy platform is based on deep expertise in iPSC differentiation methods and genetic programming of the IL-15/CISH pathway for enhanced persistence and tumor killing. The company has developed expertise that will allow for efficient and cost-effective manufacturing of these cells.
NK cells have a natural ability to identify and kill tumor cells while producing cytokines that recruit and activate the immune response. They have fail-safe mechanisms that prevent the killing of healthy cells, making iNK cells a promising and important avenue for future cell therapy development. Shoreline has developed iPSC-derived iNK cells that are genetically engineered for improved performance in patients compared with donor-derived NK cells. This includes greater activity, metabolic fitness, persistence, and resistance to exhaustion.
In addition, the company aims to restore tissue homeostasis and function by introducing engineered macrophages for fibrotic and inflammatory pathologies. Macrophages are sentinel innate immune cells that can kill tumor cells while orchestrating the anti-tumor immune response. Shoreline's iPSC derived "M1" macrophages are genetically enhanced for optimal anti-tumor functionality. These cells traffic to tumors where they modulate the tumor microenvironment to be pro-inflammatory and marshal additional immune effector cells to drive tumor clearance. Macrophage biology can also be utilized to treat non-oncology indications. The iPSC derived "M2" cells can be used in regenerative therapy, fibrosis and inflammatory diseases.
The company has partnered with the Advanced Cell Therapy Laboratory (ACTL) of UC San Diego for their state-of-the-art GMP and GLP systems and facilities that allow for accelerated product development from research and development to compliant and clinically relevant manufacturing of cell therapy products. 
Shoreline Biosciences was founded by Dan S. Kaufman, Kleanthis G. Xanthopoulos, Marios Fotiadis, Steven Holtzman, and William Sandborn in 2020. In November 2021, it has raised US$140 million in Series B funding.
Subscribe for alerts on new companies featured on Startups.Bio
---
Function Oncology
Function Oncology is a precision medicine company advancing a CRISPR-powered personalized functional genomics platform to understand cancer in unprecedented and patient-specific detail. By moving beyond measuring gene sequence to measuring …
View all recently featured startups
---